Motion Graphics, Audio/Music, Animation, Video Editing
Projections, Trailer, & promo for a stage adaptation of Aldous Huxley's "Brave New World", Performed at Palomar College 2017.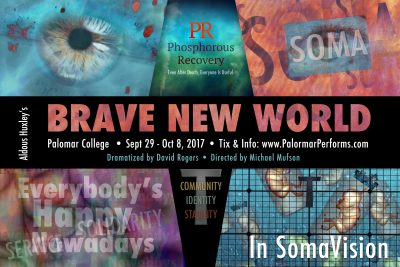 ---
Miscellaneous Projects
Personal multi-media projects, some featuring my original music or pieces I played on. All images by Greg Klamt (except for "Calling You".)
Yosemite
Photography by Greg Klamt. Music: "The Source" by Jon Jenkins (Spotted Peccary Music) feat. Greg Klamt on flutes.
Fluxus Quo
Music & Visuals by Greg Klamt. Music from my album "Fluxus Quo" (Spotted Peccary Music, 1997)
Dreamwalking
Excerpt featuring art I created with an iPhone app called Deco Sketch. © Greg Klamt 2013. The music is "Dreamwalking" from the album "Convergence" by Deborah Martin, Greg Klamt, Mark Rownd (Spotted Peccary Music, 2004)
Sea Creature
I created this with Photoshop & After Effects. No photography involved.
Calling You
I built this montage to create the mood for the opening scene of a show called "The Last Stop Cafe." Music: "Calling You" sung by Jevetta Steele from the film "Bagdad Cafe."
I could not find attributions for the images, and claim no copyright for this piece. I am happy to credit photography if anyone knows who they are.
Jelly
An abstract moment from footage I took at an aquarium in Florida. © Greg Klamt 2006
Phukitol Commercial
Created for the show "Psycho-Licious." This was performed with live narration, so there is no audio in this clip—yet, anyway. © Greg Klamt 2012. ("Psycho-Licious" was a Ric Henry Production)
Title Animation
I built this clip in PowerPoint using shapes, text, and animation effects native to the application. No external sources. Not as easy as After Effects, but I wanted to see what could be done.